Breaking News: Alibaba's Singles Day exceeds $84B
Surpassing last year's gross merchandise volumes, Alibaba's 13th annual 11.11 global shopping festival brought in 540.3 billion RMB ($84.5 billion) in gross merchandise volume, the e-commerce company announced last week. A record 290,000 brands participated in this year's shopping
Surpassing last year's gross merchandise volumes, Alibaba's 13th annual 11.11 global shopping festival brought in 540.3 billion RMB ($84.5 billion) in gross merchandise volume, the e-commerce company announced last week.
A record 290,000 brands participated in this year's shopping festival, nearly two-thirds of which were small and mid-sized businesses, manufacturers from industrial belts and new brands. Of the brands that participated, 78 brought in more than 100 million RMB in gross merchandise volume this year, up from 10 million RMB in the year prior.
A little under half (45%) of shoppers who participated in the festival were younger millennial and Gen Z consumers born in the '90s and '00s. Specifically, shoppers born in the 2000s increased by 25% compared to last year.
Alibaba focused on eco-friendly initiatives for this year's festival: More than 2,000 merchants collectively featured 500,000 products carrying the official Green Product Certification within Tmall's dedicated eco-friendly section during this year's festival. In 2021, the company also announced its new package recycling program via the Cainiao Network, though some question whether the company's environmental efforts are enough to curtail the waste the event generates.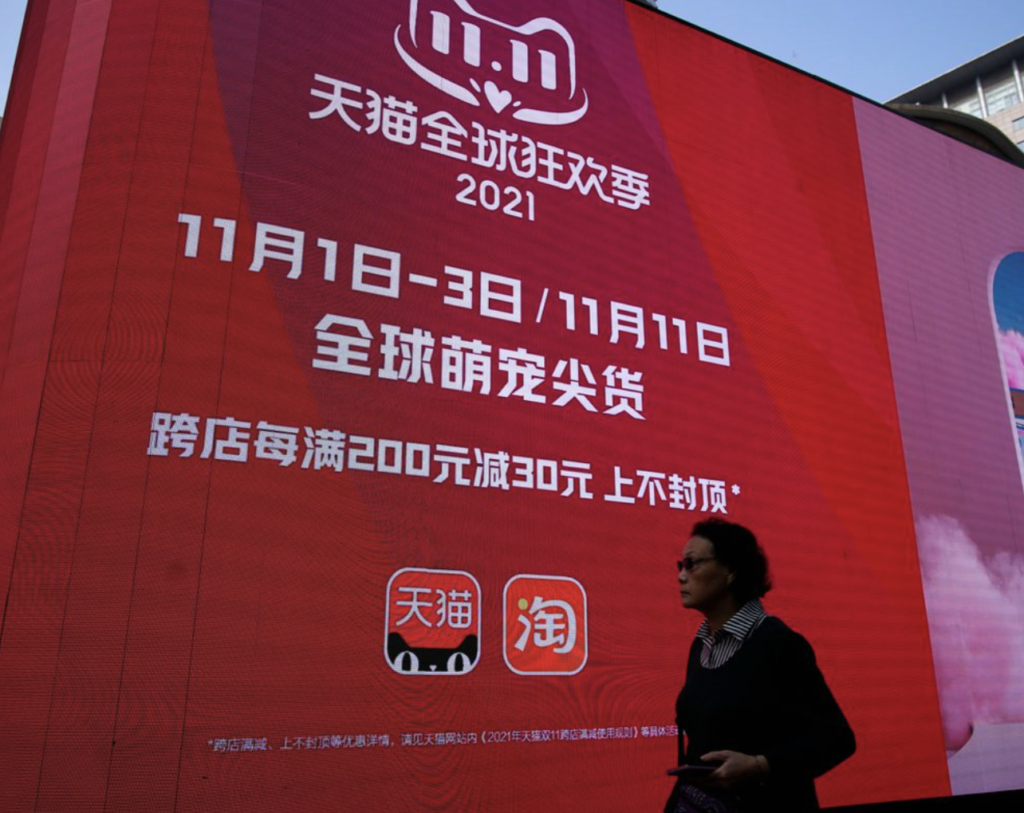 The e-commerce behemoth brought in more this year than last year's 11.11 global shopping festival, which generated $74.1 billion. The company touted the success of participating brands this year; nearly 700 brands sold more than 10 million RMB worth of gross merchandise volume during the 2021 festival, up from 1 million RMB in the year prior, the company said.
"This 11.11 Global Shopping Festival, we delivered steady and quality growth that is a reflection of the dynamic Chinese consumption economy. We also leveraged the power of 11.11 as a platform to fulfill our social responsibility," Yang Guang, vice president at Alibaba Group, said in a statement. "This year's festival was a meaningful milestone as part of our commitment towards building a sustainable future."
Via Retail Dive