Selfridges Introduces Revolutionary 'Supermarket' Idea to Transform the Way We Shop
UK department store chain Selfridges has opened a new 3D printing-focused pop-up shop in the heart of Central London. Aptly-named 'Supermarket,' the store has been branded a 'reimagining' of the shopping experience of the future, and is said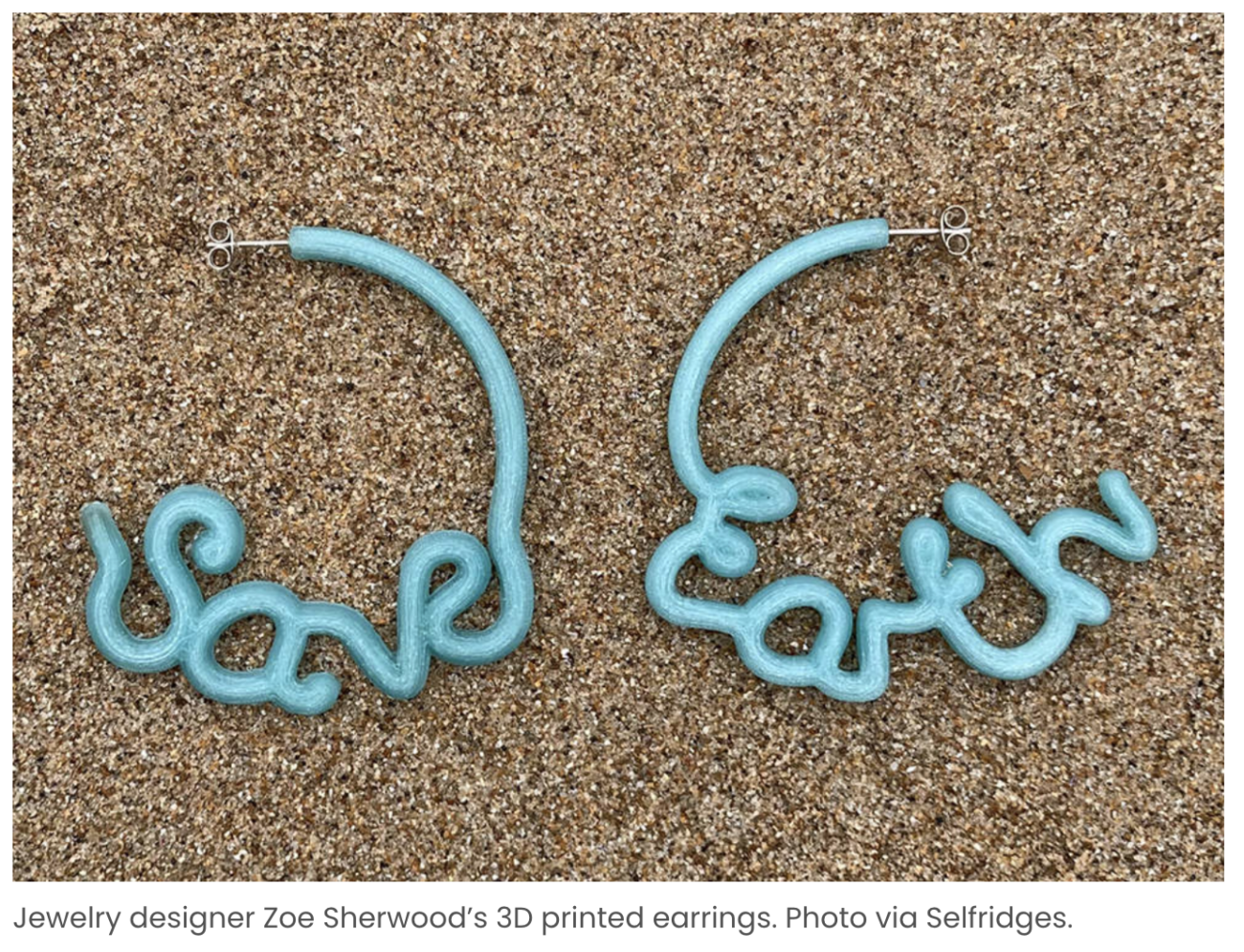 UK department store chain Selfridges has opened a new 3D printing-focused pop-up shop in the heart of Central London.
Aptly-named 'Supermarket,' the store has been branded a 'reimagining' of the shopping experience of the future, and is said to be packed with many sustainably-manufactured products. To celebrate 3D printing's credentials in this area, the store features everything from food to fashion items created via the technology, giving it a unique consumer platform in one of the world's shopping capitals.
"Supermarket brings to life our imagined future shop, offering products on-demand as well as items made from future facing materials such as pineapple leather," explains Emma Kidd, Selfridges' Acting Creative Director. "We're excited for our customers to explore Supermarket, and hope to spark thoughts and conversation around consumption and physical ownership."
Selfridges' sustainability campaign
Located at its Corner Shop outlet, Selfridges' Supermarket store has been opened in support of its wider Project Earth initiative, through which it has committed to making its business more sustainable by 2025. With this in mind, the pop-up is said to be a 'creative playground' stocked with products made via new, eco-friendly production methods, which challenge the throwaway consumer mindset.
In practice, this has seen some of the world's leading brands come together to create all sorts of goods from natural byproducts and recycled waste, ranging from plant-based meats and beauty accessories, to landfill-sourced homeware goods.
When it comes to the store's 3D printing displays, Parley for the Oceans is said to be front and center of the initiative. Working with design firm Nagami, and using its Parley Blueprint Module, an industrial printer mounted to an ABB robotic arm, the environmental non-profit turns plastic ocean waste into clothing and house furnishings, many of which are said to be available on Supermarket's shop floor.
The store is also said to feature working Fused Filament Fabrication (FFF) 3D printers, designed to allow onlookers to learn more about how the technology functions in real-time. In keeping with Supermarket's dual focus on trendy technologies and new ownership models, it's also set to house exclusive non-fungible token (NFT) digital artworks which will only be available in-store.
An Oxford Street fashion show
Similarly, on the fashion front, Selfridges' pop-up features a number of its Project Earth products, many of which are sustainably-sourced or 3D printed. In the case of the store's Touchless hand and clutch bags, it's both, as they're designed to not only be durable and used long-term, but created via on-site machines, with which Supermarket is offering to produce customer designs on-demand.
At the store, London jewelry designer Zoe Sherwood is also believed to be marketing her 3D printed accessories made from recycled fishing nets. Much like the wider shop, the artist's work tends to revolve around empowerment and bettering the world, and her 'Peace' hair clips and 'Earth and Save' earrings are both said to be available to purchase.
Elsewhere, in terms of higher-profile (and likely higher-ticket) fashion items, French haute couture Jean Paul Gaultier is said to have launched its first pair of 3D printed shoes at Selfridges' pop-up, while Dutch fashion innovator Iris Van Herpen has also bought into its eco-friendly theme, launching dresses and corset belts made from ocean waste.
Although it's not currently clear whether the designer has used additive manufacturing to create these specific products, she does have a storied history of doing so to realize her artistic visions. In fact, just last year, Canadian musician Grimes wore a custom gown with a 3D laser-cut pattern designed by Van Herpen to the 2021 Met Gala.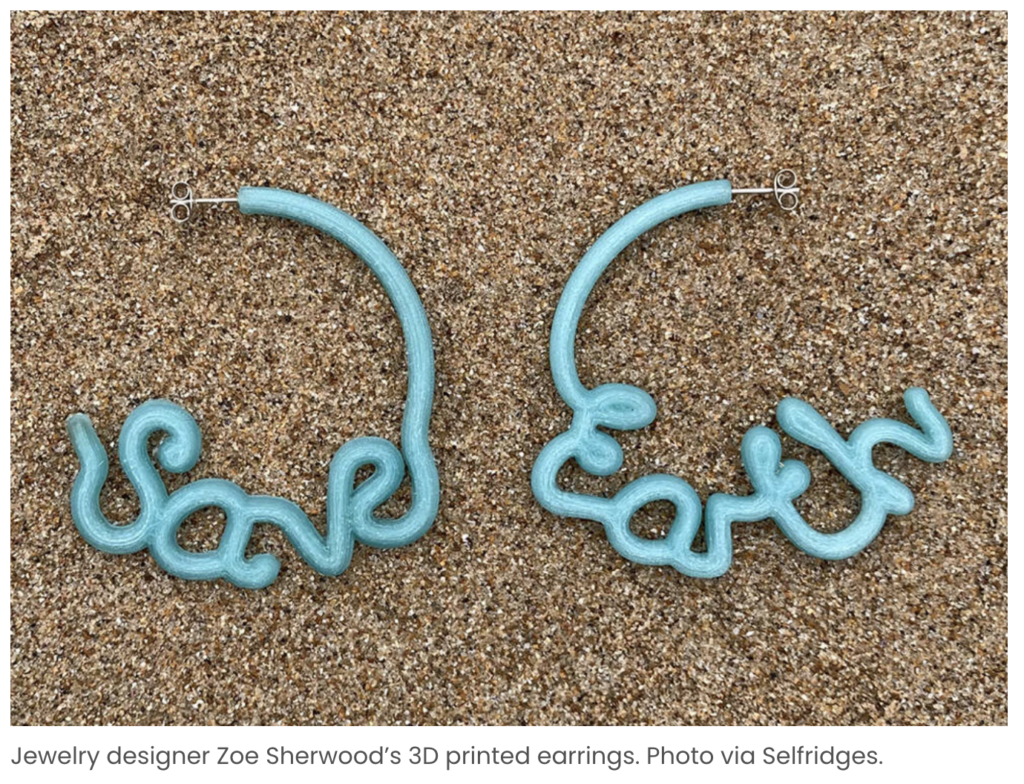 Boarding 3D printing's hype train
While there's no doubt that 3D printing products rather than using subtractive manufacturing can bring material efficiency benefits, Selfridges' campaign is also the latest to use its allure as a 'disruptive technology' for what are essentially marketing purposes.
Earlier this year, Swedish furniture firm IKEA launched a 3D printing-led recruitment campaign, in which it invited candidates to a job interview over a plate of meatballs produced via the technology. At the time, the company had committed to have 50% plant-based meals in all its restaurants by 2025, however it was unclear if the 3D printed meatballs featured would be part of this initiative.
IKEA's 'Taste the Future' campaign was reminiscent of those seen in the mid-to-early 2010s, a period often seen as the point at which 3D printing's hype peaked. In one such initiative, Coca-Cola worked with 3D Systems and musician Will.i.am to create the Ekocycle 3D printer, while in another, Macy's Backstage store was stocked with 3D printers, in an attempt to boost its appeal to younger customers.
Via 3dprintingindustry.com