2023 our annual Christmas TV Ad roundup part 1 – M&S, ALDI and more
Welcome to part 1 of our annual Christmas advertising roundup. As the holiday season approaches, retailers worldwide are unveilling their Christmas commercials. From heartwarming narratives to festive jingles, these ads are designed to spread the
Welcome to part 1 of our annual Christmas advertising roundup. As the holiday season approaches, retailers worldwide are unveilling their Christmas commercials. From heartwarming narratives to festive jingles, these ads are designed to spread the holiday spirit and showcase the magic of giving. In this round-up, we've curated a list of the best retail TV commercials for Christmas 2023 from renowned brands like ASDA, M&S, John Lewis, and many more. So grab a cuppa, or glass of mulled wine, and stay tuned for part 2.
ALDI UK
ALDI has finally released its Christmas 2023 advert. The supermarket's festive campaign sees the much-loved Kevin the Carrot return for a new adventure as he explores William Conker's Magical Christmas Factory.
Lidl: A Magical Christmas by The Romans
Woolworths by The Greenhouse Collective at M&C Saatchi Australia
Woolworths has unveiled its latest Christmas campaign, celebrating the little things that make Christmas special including coming together over the festive season with loved ones.
Sainsbury's – The big Question:
Sainsbury's Christmas advert features Sainsbury's employees discussing what Santa would have to eat on Christmas Day. As they muse over options, Rick Astley pops up and gives his suggestion, which is quickly shot down.
Waitrose: Just Can't Get Enough by Saatchi & Saatchi
Waitrose invites viewers into a world of enchanting festivities with their Christmas ad for 2023.
Morrisons: More of The Winning Feeling by Leo Burnett
Morrisons spreads joy this holiday season with a commercial that highlights the warmth of sharing delicious moments with loved ones.
Boots – Give Joy:
Boots brings a dose of holiday cheer with their Christmas commercial, focusing on meaningful gifts that show you care.
Heathrow Airport – Love by St Luke's London
Heathrow has launched its festive campaign for 2023 bearing the seasonal message that the most special festive memories are those made with loved ones – and often when departing or arriving at the UK's largest airport.
M&S Food:
As well as their normal Christmas advert, Marks & Spencer have also released a M&S Food ad which features Dawn French as a glorious fairy and Hollywood actors Ryan Reynolds and Rob McElhenney as a pair of forgotten gloves. The ad begins with fairy Dawn bringing the gloves to life and sprinkling some Christmas magic with some delightful food.
M&S: Love Thismas (Not Thatmas) by Mother
M&S has taken a star-studded approach for its 2023 Christmas campaign, tapping Queer Eye's Tan France, actors Hannah Waddingham and Zawe Ashton, plus singer Sophie Ellis-Bextor.
The World Needs More Santas by WPP Open X led by VMLY&R, Ogilvy and Essence Mediacom
Coca-Cola never fails to deliver a dose of Christmas magic. Their iconic ad captures the essence of the season, spreading joy worldwide. Catch it
Amazon – Joyride:
Amazon has released its Christmas ad celebrating enduring friendship and shared moments of joy.
TK Maxx: Festive Farm by Wieden+Kennedy London
TK MAXX's Christmas ad for 2023 brings a dash of humour and style, highlighting the joy of finding unique gifts at unbeatable prices.
very.com – Let's Make It Sparkle:
Very.com invites viewers into a world of enchanting festivities with their Christmas ad for 2023.
Lego – Gift The SuperPower of Play
Through 'Play Is Your Superpower, the toy brand will look to encourage adults to prioritise play for the children in their lives, helping them thrive now and in the future regardless of their interests. Play has been found to build creativity, confidence and problem-solving abilities.
Not On The High Street: Don't Gift Landfill by Uncommon London, Hearts & Science, Grand Visual and Talon
Not On The High Street rolled out billboards highlighting the landfill issue caused by bad Christmas gifting.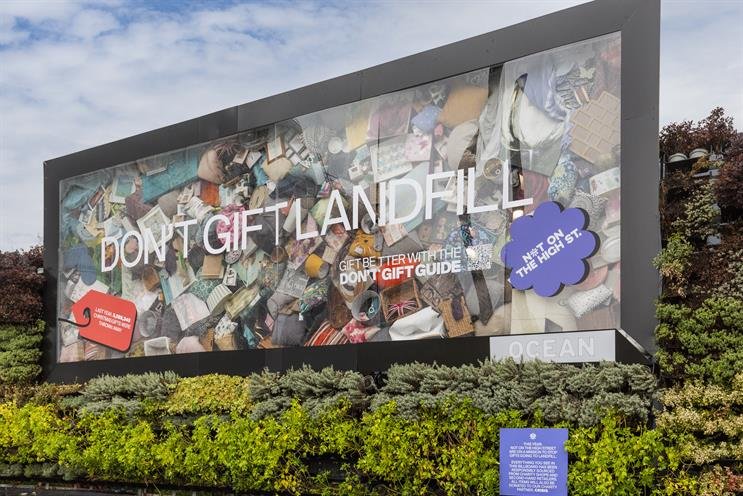 We hope you enjoyed our first instalment. Part 2 will be out very soon we promise.