6 Of The Hottest New Stores In China
In China this month, new retail stores are embracing a captivating fusion of nostalgia and cutting-edge technology. Established brands are weaving their rich heritage into immersive gallery-like settings, inviting customers to explore their stories. Meanwhile,
In China this month, new retail stores are embracing a captivating fusion of nostalgia and cutting-edge technology.
Established brands are weaving their rich heritage into immersive gallery-like settings, inviting customers to explore their stories. Meanwhile, innovative stores are leveraging the power of AI to deliver extraordinary experiences to their customers.
Among the exciting offerings are a magazine store reminiscent of a sophisticated gallery, a camera lens display shelf, AI-powered makeup consultations, and fragrances curated to match different moods. Here we show you 6 Of The Hottest New Stores In China:
Sephora, Shanghai
Sephora has introduced a cutting-edge experiential store in China known as the "Store of the Future." This store boasts an array of innovative digital features and interactive elements designed to enhance the customer experience. Visitors can immerse themselves in AI-generated makeup trials and receive personalized skin analyses. RFID sensors are strategically placed throughout the store to provide additional product information and access customer reviews. Plus, customers can enjoy tailor-made tutorials aligned with the latest beauty trends.
The store offers a wide-ranging selection of products, featuring renowned beauty brands like Anastasia, Hourglass, Wei, and more. Once customers have made their product selections, they can effortlessly complete their purchases at mobile checkout stations. Unique gifting options, such as voice messages, add a personal touch to the shopping experience. Additionally, Sephora plans to host community events like masterclasses, fostering connections with beauty enthusiasts and providing valuable insights into the world of cosmetics.
Dayin Bookmall Heping Park Magazines Tea House, Shanghai
Houkou recently welcomed the grand opening of a novel magazine store, a captivating blend of retail and artistry. Nestled within the serene confines of one of Shanghai's charming parks, this space exudes a delightful sense of nostalgia. It boasts a meticulously curated collection of magazines from across the globe, spanning a myriad of subjects, including fashion and current affairs. The first floor currently serves as a gallery, featuring an exquisite exhibition dedicated to the works of the legendary Pablo Picasso, showcasing two of his masterpieces.
Every magazine in this unique store is readily available for customers to peruse on-site or borrow for leisurely perusal at a later date. For avid readers, magazine subscriptions are also available.
Galeries Lafayette, Shenzhen
French brand Galeries Lafayette has unveiled its new flagship store in Shenzhen, featuring a unique concept store with a distinct French architectural flair. The store will showcase a diverse array of brands, encompassing both French favorites and selections from local and global brands. Within the store, you'll discover "The Edit by Galeries Lafayette," a curated section brimming with exclusive brands such as Jacquemus, Balmain, Margiela, and many others. Additionally, an "Edit Gift" space will offer a selection of gifts and lifestyle items, featuring brands like Marni and MM6.
For shoppers seeking relaxed styles and trendy sneakers, the third floor awaits, providing a haven for fashion and comfort. And, for those in need of a break, the Café Kitsuné offers a delightful spot to unwind and try delicious food. The grand opening of the store was commemorated with the "From Paris with Love" launch event, a celebration of the epitome of French style and sophistication.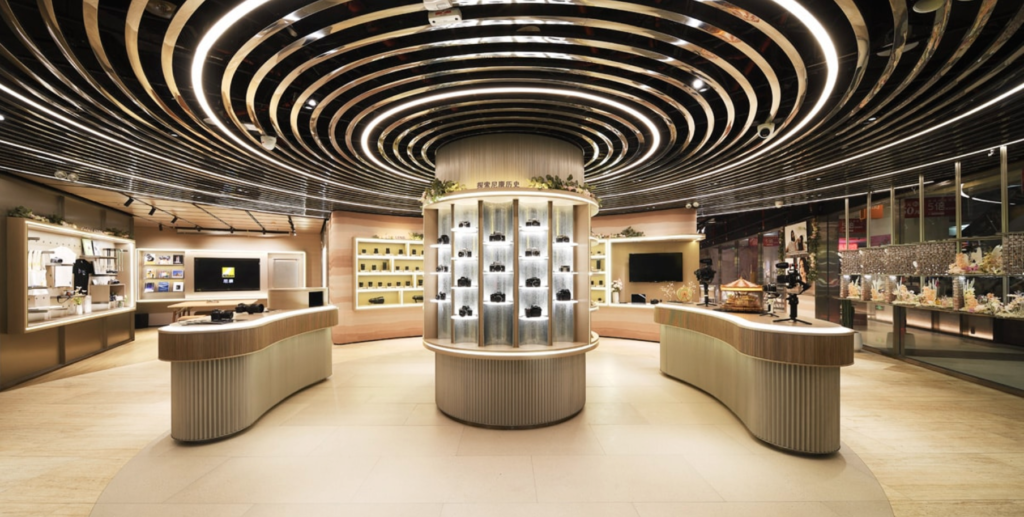 Nikon, Shanghai, Guangzhou and Chengdu
Nikon has made a significant retail expansion in China, inaugurating three distinctive flagship stores at diverse locations. The store design is characterized by its sleek, rounded lines and neutral-hued walls, creating a minimalist yet inviting ambience. A standout architectural feature is the ceiling, reminiscent of a camera lens, extending gracefully to the floor, where it transforms into a captivating display shelf showcasing an impressive collection of vintage cameras.
These stores exude a museum-like atmosphere, boasting an extensive range of Nikon's renowned Z series cameras and lenses. Throughout the space, captivating photography captured with Nikon cameras adorns the walls, serving as a source of inspiration for visitors. Additionally, customers can explore a selection of exclusive products available for purchase, including tote bags and stylish t-shirts, making these flagship stores more than just retail spaces but also hubs of photographic artistry and innovation.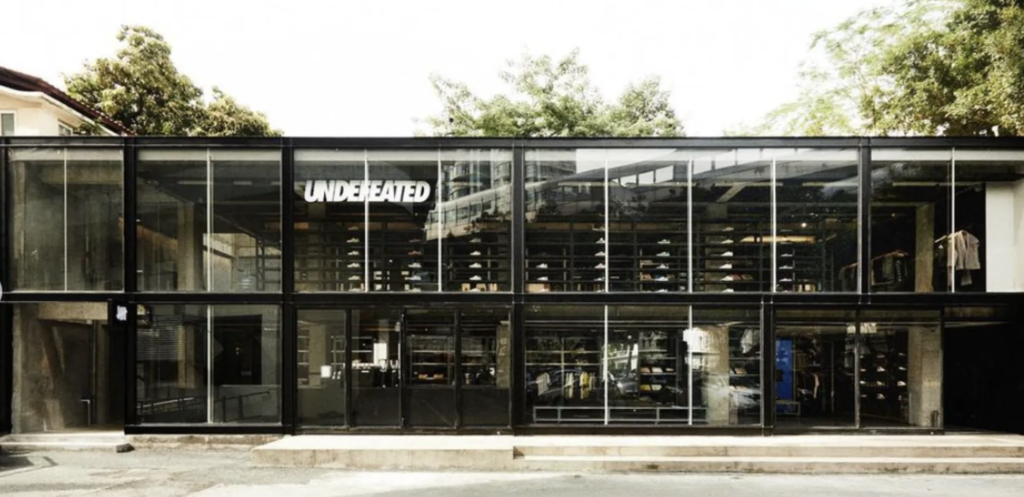 Undefeated, Guangzhou
Undefeated, the renowned urban streetwear brand, has introduced a fresh retail destination in Dong Shan Kou.
The store's design takes inspiration from factories and warehouses, aligning with the growing refurbishment trend gaining momentum in China. The space embraces an industrial brutalist aesthetic, featuring exposed steel and concrete elements meticulously crafted to harmonize with the brand's product lineup.
Within these walls, Undefeated showcases its exclusive streetwear collection, featuring a range of trendy apparel and sought-after sneakers. The store proudly highlights collaborations with esteemed brands such as Nike, Timberland, Converse, and others, further solidifying its position as a premier destination for urban fashion enthusiasts.
Armani Beauty, Hainan
Armani Beauty has opened its first flagship store in China, located in the city of Shenzhen. The 140-square-meter store features a "Red River" conveyor belt that displays an array of beauty products from global brands, as well as Armani's signature products like Acqua di Giò and Armani Code.
In the Emotion Lab, shoppers can discover the Armani fragrance that best suits them by drawing designs on an interactive calligraphy screen. They can also try out bespoke beauty looks in a digital make-up area called Face Maestro.
The store is designed to be a "multi-sensory experience" that celebrates the beauty of Chinese culture. Its walls are covered with traditional Chinese paintings, and the lighting is inspired by the colors of the Chinese flag.
The flagship store is a major investment for Armani Beauty, and a sign of the brand's commitment to the Chinese market. The store is expected to attract a large number of luxury shoppers from all over China.
Via Insider Trends