Myer Launches 6 Second Sale
And a little project I've been working on recently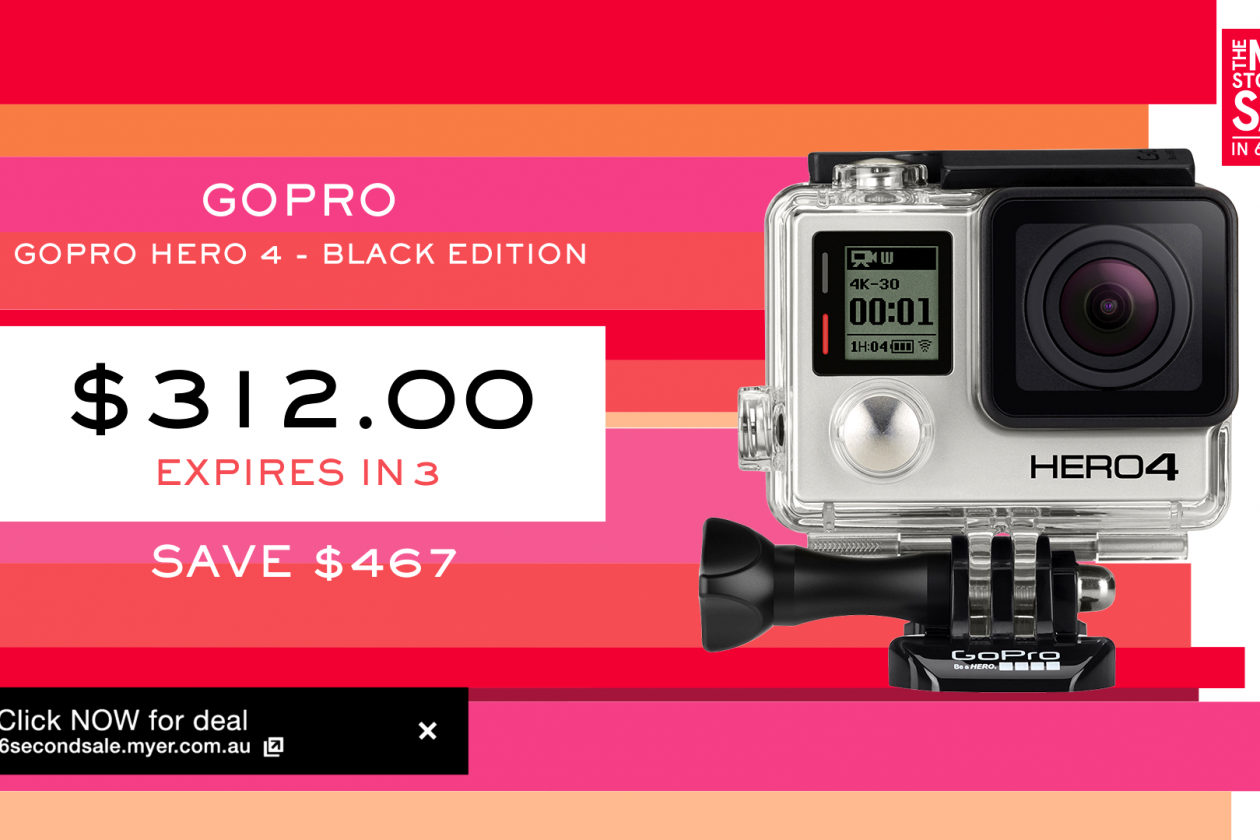 And a little project I've been working on recently….
Working with Google and Clemenger BBDO Melbourne, Myer has launched an online six-second version of its Stocktake Sale.
Running exclusively on YouTube, the '6 Second Sale' campaign features over 100 special deals with discounts greater than those available in Myer stores or on Myer.com.au – the catch is that customers will only have six seconds to click on a YouTube bumper ad or miss the deal.
The campaign has been produced using Google's proprietary tool, Vogon, to create the suite of dynamic ad units required. Each ad features a different product with a market-leading offer and a link to click through to a pre-populated shopping cart.
Targeting will ensure that no YouTube user sees the same ad twice, meaning if people want to grab the deal, they need to act fast.
Ross Jauncey, creative agency lead at Google, said the campaign is an innovative use of YouTube's six-second bumper format.
"Turning the six-second bumper into a 'FOMO-driven' direct sales device is a clever use of the format, and it's been great to work with Myer and Clemenger BBDO Melbourne to make it happen," he said.
Mark Cripsey, chief digital and data officer at Myer, said the campaign is a new way for the retailer to connect with omni-channel customers during its Stocktake Sale.
"The partnership enables us to harness existing digital media to drive interest in the sale and give customers the best possible offers – so everyone wins," he said.
"This is a great example of the innovation agenda we are currently driving at Myer."
Chris James, executive creative director of digital at Clemenger BBDO Melbourne, said: "Using interactive channels to deliver new sales opportunities is at the core of the brief that Myer has tasked our Clemenger and LogicalMagic teams with.
"The '6 Second Sale' and our recent 'Catwalk to Cart' initiative are great examples of this, and it's exciting to work with a client like Myer who has such an appetite for digital test and learn."
All offers featured on the '6 Second Sale' are at least five percent better than the available Stocktake Sale discounts.
In addition, three lucky customers will have the chance to buy a Canon SLR camera, a Go Pro and a Samsung Galaxy Tablet at 60 per cent off the recommended retail price.
B&T