London's Latest Must-Visit Stores Redefining The Shopping Experience
Credit: Insider Trends _ London has always been one of the most forward-looking fashion capitals and here are a number of exciting new concepts being debuted this month. Fashion is also trying to find new ways of engaging with
Credit: Insider Trends
_
London has always been one of the most forward-looking fashion capitals and here are a number of exciting new concepts being debuted this month.
Fashion is also trying to find new ways of engaging with customers from offering workshops and meetings with designers, to collaborating with iconic London institutions. We've found a store aimed entirely at influencers, and one that makes use of cardboard as a fit-out material.
Get inspired by our latest crop of retail openings in London.
Forge, Leather Lane
A new jewellery concept store, Forge, has opened in London's Leather Lane. A five-year project in the making from jewellery designer Amanda Mansell, Forge aims to help independent designers connect with jewellery aficionados with a space that feels more akin to a pop-up shop than a traditional store.
The store can display items from 34 designers at any one time, including Isle Jewellery, Rachael Plassard and many others. Customers can learn how to make jewellery, as well as attend a range of other events from talks on jewellery books to in conversation talks with makers. Designers can also book spaces to hold their own classes and meet clients.
Uniqlo x Theory, Covent Garden
Fashion retailer Uniqlo has launched a new store in Covent Garden in collaboration with clothing brand Theory that is focused on experiences and the local community. Uniqlo and Theory share a parent company – Fast Retailing.
The space offers both the Uniqlo and Theory clothing ranges, along with an exclusive launch celebrating the 20th anniversary of the custom t-shirt and tote bag collection UTme!, in partnership with Transport for London. This collection features Tube station artwork and designs, and is available only at the Covent Garden location. Shoppers can also refresh and repair their Uniqlo clothing at the RE.UNIQLO Studio.
Customers can also enjoy the introduction of Uniqlo's first café; a Japanese tearoom from London-based Katsute 100. The store also contains a pop-up flower store from JamJar, as part of the brand's partnership with local businesses.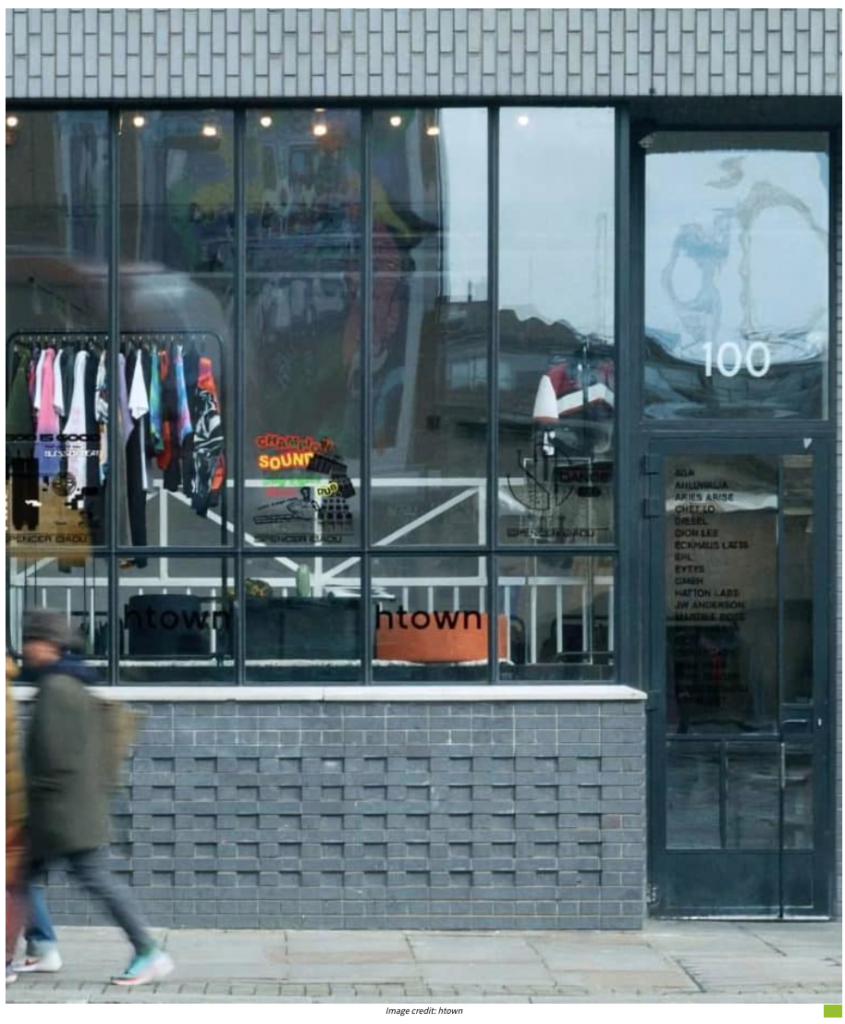 htown, Shoreditch
Htown, which supports upcoming fashion designers, has opened a new semi-permanent store within community hub One Hundred Shoreditch. The store aims to not only showcase htown designers but also support underprivileged young people interested in a career in fashion.
UK designers Ahluwalia, AGR and Spencer Badu are just some of designer labels featured, and will also be running workshops on repurposing clothing, knitting, and dancing, offering free tickets to those in need. There will also be jewellery available from Hatton Labs and athletic clothing from Dion Lee and Saul Nash.
The store has made a commitment to support Refuge and the Spitalfields Crypt Trust with monthly donations and planned charity sales.
WHRS13, Soho
Ukrainian designer Natasha Zinko has opened a unique utilitarian warehouse meets retail store in Soho.
The space is a shop, community hub, fulfilment centre for online orders, and cafe, all in one. Online orders are packaged and shipped from the space, which saves the brand paying for warehouse space elsewhere.
The store makes use of repurposed items and cardboard for its look and feel in order to not waste anything. Clothing and other products that customers can buy in store are displayed between boxes for stock replenishment and shipping, with hand-written cardboard signs.
Customers can also enjoy a variety of drinks at the NatashkinoLtd Matcha Café where they can relax on fur covered furniture.
PrettyLittleThing, Oxford Circus
Instead of a store aimed at customers, fast fashion brand PrettyLittleThing has opened a showroom for influencers and celebrities. The bright pink space is the perfect setting for creating content, taking press photos and holding events, and also has meeting rooms and offices for staff.
The store has a content creator hub specifically for influencers to try on clothes and create content about the brand. This showroom opening follows a string of successful showrooms in other locations like Paris and Miami.
House of Rixo, King's Road
UK fashion designer Rixo has launched a new flagship, House of Rixo, which has all Rixo offerings in one space.
Sustainability is a key focus and the store has rental, second hand and vintage clothing available for customers. It also allows customers to return older Rixo clothing in exchange for a voucher, as well as personalisation options with an alteration service.
There are private areas which can be used for events and other appointments, as well as a dedicated Bridal suite available to be privately booked. Drinks are also available in-store, with a coffee shop offering hot drinks in recycled Rixo cups, and cocktails from the Kudu Collective.