Retail Innovation: Laneige Debuts Virtual Store, Redefining Cosmetic Shopping Experience
Credit: Retail Dive - Laneige on Tuesday debuted its first virtual store. It has five rooms designed around different products and brand content, featuring animation, 360-degree videos, gamification and easy checkout. A few of the rooms highlight specific skincare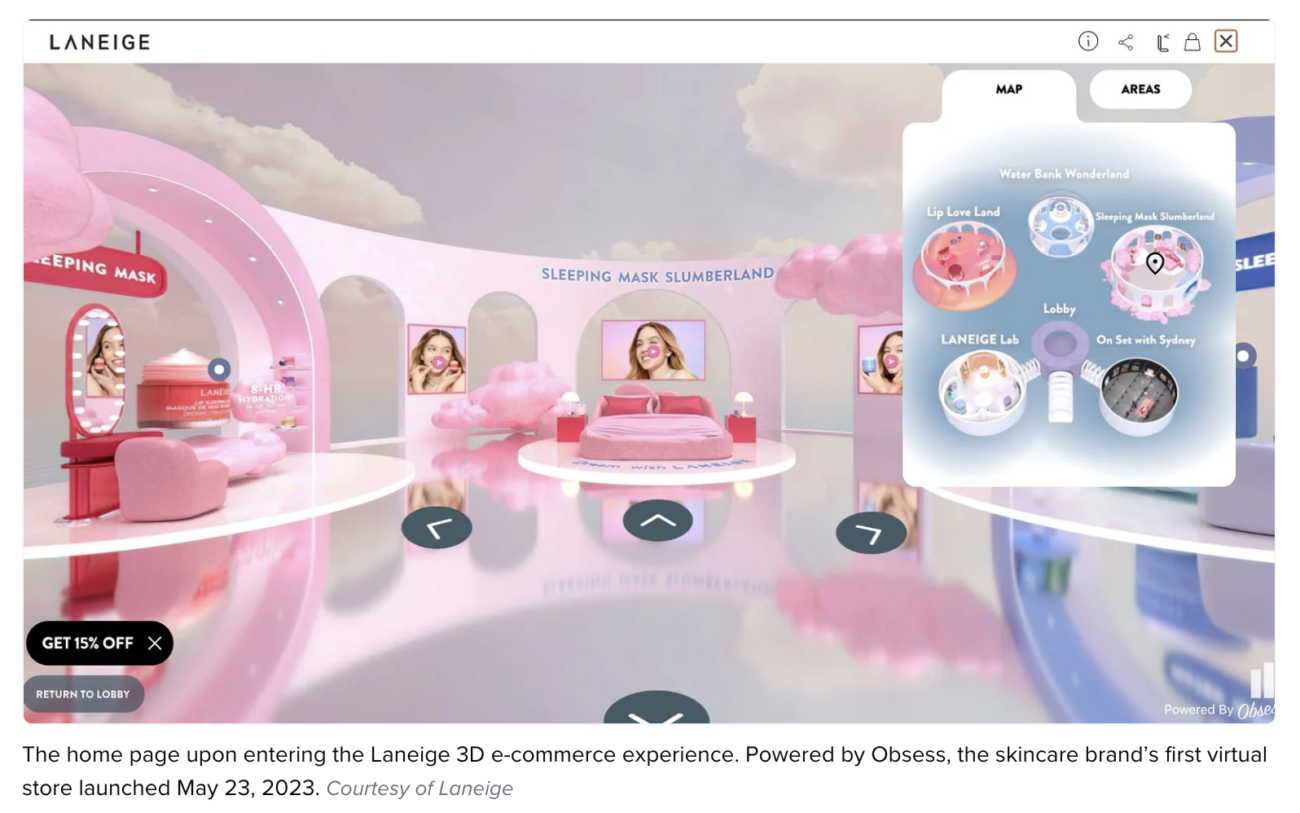 Credit: Retail Dive
–
Laneige on Tuesday debuted its first virtual store. It has five rooms designed around different products and brand content, featuring animation, 360-degree videos, gamification and easy checkout. A few of the rooms highlight specific skincare collections by the brand.
Actress and spokesperson Sydney Sweeney is featured in one of the rooms with exclusive videos and photos for the brand. Store visitors can also take a skincare quiz to receive product recommendations or enter a scavenger hunt offering two free products with a Laneige purchase as the prize.
Along with the virtual store experience, Laneige is promoting its new Water Bank Blue Hyaluronic Collection offering cleansers, toners and other skincare products.
The interactive rooms in Laneige's virtual store showcase its skincare collections in different fanciful settings, including on a cloud, underwater and on a carousel. In the Laneige Lab room, customers can get a closer look at the ingredients behind the brand's skincare products.
"The virtual store is a powerful customer engagement tool that will allow shoppers to dive into Laneige's unique scientific expertise and entertaining digital content, while also helping them select the right product for their skin needs, including our bestselling Water Sleeping Mask and Lip Sleeping Mask," Julien Bouzitat, chief marketing officer of parent company AmorePacific U.S., said in a statement.
Obsess founder and CEO Neha Singh noted that the company's data shows virtual stores are increasing customer engagement and purchase behavior. The virtual store builder has partnered with brands like Elizabeth Arden, Laura Mercier and others for their own 3D e-commerce spaces. More brands are opening virtual stores and simultaneously debuting products, including Tatcha and Tommy Hilfiger.
Obsess launched its own self-service store builder last month, Ava by Obsess. Through an annual subscription, the service lets brands build their own virtual stores and add products, branded avatars, clickable content and social media elements.