How REI Creates a Customer Ecosystem
The purpose of a retailer is changing. The core function may still be to sell products, but there are entire worlds being built up around consumers now that have — at least on the surface
The purpose of a retailer is changing. The core function may still be to sell products, but there are entire worlds being built up around consumers now that have — at least on the surface — little to do with products sitting on shelves.
The rise of experiential retail has led to stores increasingly offering various services, classes and events within their walls instead of just commodities. Greg Portell, lead of the global consumer practice at Kearney, pointed to cooking classes at the likes of Sur La Table and Williams Sonoma, or gardening classes hosted by Home Depot and Lowe's, as examples of some of the more community-focused or educational events retailers have begun holding.
REI, and the athletics and outdoors space as a whole, is particularly well-positioned for this type of overlap, operating alongside activities like kayaking or running that require specific equipment and apparel and could benefit from employees with expertise in the space.
"I think the running specialty channel, for instance, has been onto this idea for some time of organizing a fun run or a short run after work or early in the morning," Matt Powell, senior industry adviser for sports with the NPD Group, said. "It's creating community, and in this case, it's putting like-minded people who are interested in running together with other people who are interested in running."
For the outdoors industry, building that community is even more involved. It means organizing events like hiking, canoeing and rock climbing — all dependent on particular environmental conditions — or hosting events to educate consumers on certain activities. Merrell and Fjällräven, for example, have programs to try and connect consumers with their local environment.
"REI has that natural connectivity to the outdoors, and the biggest challenge many of us have with the outdoors is actually getting access."
Greg Portell, Lead of the Global Consumer Practice at Kearney
REI has taken things to a whole different level. The specialty retailer offers days-long trips based around hiking, cycling, snowshoeing and other activities through its REI Adventures business, along with local events and classes. It's not exactly a bid to become a travel business, but more so to build up an outdoor ecosystem around its consumer, where it can offer everything from merchandise to travel itineraries.
"The fact that they're going into travel here is not unexpected because that ties directly to their brand. It'd be very different if we were talking about Hollister doing it or Abercrombie — they don't have any real natural affinity to the travel sector," Portell said. "REI has that natural connectivity to the outdoors, and the biggest challenge many of us have with the outdoors is actually getting access. So by creating a way for the newbies to get access to the outdoors, REI is enhancing their brand and they're bringing more people into the category. That's the profile of a company that we would expect to get into travel — same way you see National Geographic do it."
Travel is particularly attractive for some retailers because, prior to the pandemic at least, consumers were spending a lot on experiences, according to Powell. Offering travel services was a way to get in on a hot spending category for consumers, though Powell said he's not sure how many retailers actually make money on travel.
"It was the retailer trying to enhance the experience that the consumer was after," Powell said.
Another participant in the space, wholesaler Costco has a travel business that offers members special discounts on trips. While Portell believes Costco's efforts are more about bolstering the offerings for its cost-saving customer base than the brand connection REI has to outdoors travel, the retailers do share one thing: a membership.
While Costco only offers travel for its members, REI allows anyone to book trips, but it gives members discounts on its travel offerings, and the specialty retailer's membership helps build out its ecosystem in other ways as well. For example, REI limits used gear sales to members. The company's garage sales have traditionally been members-only, and now, as the retailer opens physical locations that sell only used gear, buying is reserved for members. (Anyone can browse those stores, but members are the only ones that can buy.)
Used gear has become another spoke in the wheel REI is creating for its customers. Facilitating used gear sales helps make the outdoors more accessible, if in a slightly different way than its travel options. Likewise, the retailer now offers virtual fit appointments and educational presentations online, further building out its customer experience.
To summarize, through REI, a given customer can: test out camping for the first time using the company's rental services, schedule a virtual outfitting appointment for their next camping trip to figure out what kind of tent and cooking gear they need, buy the tent from REI's used business to cut back on costs, buy the cooking gear new because they're feeling fancy, start planning a Yellowstone camping trip, attend a virtual session on backpacking in Yellowstone to pick up some tips and, finally, book their 6-day Yellowstone camping trip through REI.
REI dresses you for the outdoors, educates you about the outdoors and can even lead your trip into the outdoors. In short: REI wants to do everything for you except the activity itself.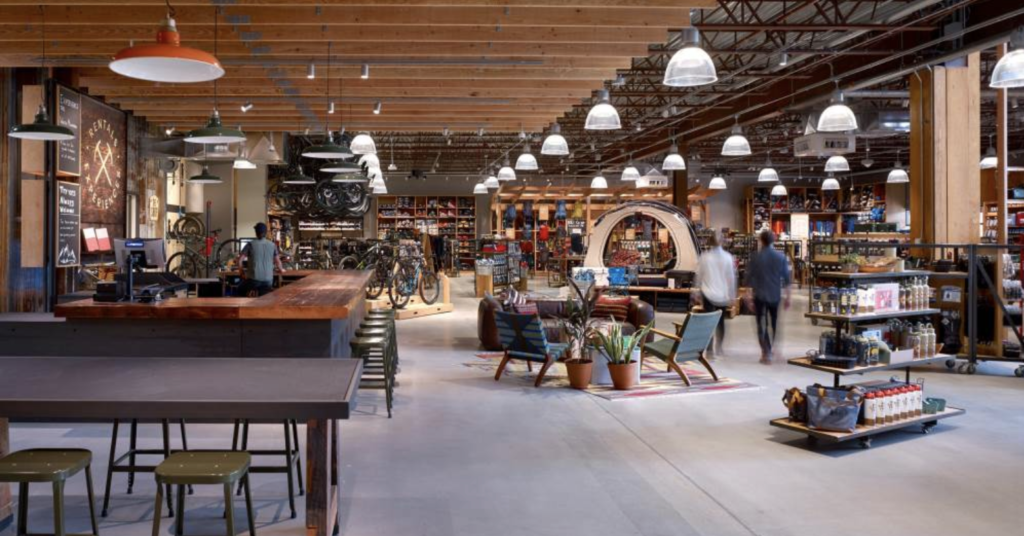 Making gear accessible
Since the appropriate apparel and equipment are key to enjoying the outdoors, it makes sense that part of REI's world-building is solidly focused on making the appropriate gear for a given activity more accessible. That starts with REI's used gear business. According to Ken Voeller, director of circular commerce and new business development at REI, the company's online used gear business "has been pretty darn successful."
REI doubled its online sales of used gear in 2020 and expanded the program in October last year to include used gear pop-up stores and a trade-in program where members can sell their gear in exchange for an REI gift card. So far, shoppers are using the used gear business to get into new sports and activities they haven't done before, Voeller said.
"We're noticing that they're starting to serve a different type of customer than maybe our traditional retail stores would," Voeller said of the retailer's used gear pop-ups. "We see customers walking into our used gear retail stores to buy a tent for the first time because they want to go camping for the first time or they'll walk into our used gear retail stores to buy a pair of hiking shoes for the first time. We really see those used gear stores becoming kind of a gateway to the broader Co Op, and then by extension of course, the outdoors."
That "gateway" is eventually expected to make up "a significant percentage" of REI's overall gear and apparel business, Voeller said. REI plans to keep scaling the business both online and in-stores, though the retailer hasn't decided what form its physical used gear business will take long term. Right now, it's pop-ups. But permanent stores could be in the cards, or a combination of both. Also on the table are repair services, recycling services and other ways to keep members' gear in shape and in use.
"Retailers now have an urgency to build up the segments and the sectors in which they operate, so for REI, that's the outdoors. They want to create an environment where more people are doing the things that match the products they sell," Portell said of the strategy at REI. "So making it easy, making it convenient, making it turnkey, those are all natural extensions … REI is making people realize that they should be outdoors [and] they're making it easy for them to be outdoors."
Voeller attributes part of REI's success selling used gear online specifically to improving operational efficiency in the model. That's opened the doors to used business models for companies that don't just sell at high price points.
"If you think about a used car business, it's not like used businesses or re-commerce businesses are necessarily new," Voeller said. "I think what's new is, technology is improving to a degree that it starts to make a lot of sense to offer used businesses at lower price point categories, and the outdoor industry is certainly kind of ripe for that."
REI doesn't re-sell everything, though. Voeller said the company determines which items to take back based on consumer demand, which means a lot of tents, sleeping bags and other high-demand items for new entrants looking to try out an activity. Voeller points to tents as a good re-sell candidate because of the expected life of the product in addition to its high demand, but other products may not be worth the cost.
Another benefit of offering used gear to customers? They might come back for full-price products later.
"We are noticing that start to happen," Voeller said. "We see members who are purchasing used items, they'll often turn to used to get into an outdoor activity, and then over time, we expect them to continue to engage with us both in our used offering, but also in our core new product offering."
Making experimenting accessible
What if a customer's not ready to commit to buying anything yet? REI has an answer for that too. The outdoors retailer has been doubling down on its rental business lately, expanding it into new product categories and increasing the number of stores the service is available through. As with other things, members get an advantage: They don't have to pay a deposit on rentals.
By providing services that are accessible to both members and non-members but distinctly better as a member, REI is not only more likely to convince shoppers to become members, but also to benefit from the increase in data it receives through a customer signing up for a membership. (Nike also does this pretty well.)
"Effective membership programs allow retailers to have two-way conversations with consumers. That creates that testing environment," Portell said. "So the smart retailers are using the test group for feedback that allows them to sharpen their product and sharpen their offering."
And REI is always looking for ways to sharpen its offering. In addition to expanding access to rentals, REI recently began offering virtual outfitting appointments to help customers figure out what kinds of gear they need to, for example, start a new sport or adopt a new hobby.
According to Thomas Davis, virtual outfitting program manager at REI, giving customers access to its knowledgeable store associates online has "always been on the REI roadmap." The pandemic pushed it to the forefront, and the retailer launched a very basic version of the program around April last year, which Davis described as "store managers with cell phones."
"An educated consumer is likely going to be much happier with the product that they buy than an uneducated one."
Matt Powell, Senior Industry Adviser for Sports with the NPD Group
A more robust offering came in July 2020. Now, customers can select the activity they're interested in talking to an associate about and a time, and the rest is done by REI. The employees taking the personalized outfitting appointments are current store employees, Davis said. They spend three days a week talking to customers virtually and two days working in stores.
"We felt like it was vital that our virtual outfitting team be regularly engaging with our customers, touching and experiencing the gear, and observing how customers interact with it, so that when we're talking about the fit of a boot or the ease of setup when it comes to a tent, we're doing so from a personal authentic experience," Davis said. "Because neither the customer nor the virtual outfitter has the product in front of them."
The program allows REI employees to offer advice to customers that's unique to them, and also unique to the activity they're interested in. Experts in a certain activity only take appointments that relate to that expertise, Davis said, the same way REI makes sure to have associates positioned in specific areas of the store where they have knowledge.
That kind of personalized education can not only help seasoned outdoor enthusiasts gear up for their next adventure, but also aspiring outdoorsmen that don't know where to start. Davis describes part of the outfitter's job as thinking "about the question they haven't asked." The associate can also help the customer make purchases at the end of the call if they want to, but the focus is on education.
"An educated consumer is likely going to be much happier with the product that they buy than an uneducated one," Powell said. "If you have to walk into a store and choose — let's say a butane stove — and you're not really shown how it operates and no one's asked you what you intend to cook on it, and you end up buying a product that is maybe above your skill level or above your needs, maybe you spent too much money on it: You're going to be unhappy. This sort of concierge advisory kind of thing is yet another way to make sure the customer is getting connected to exactly the right products for their needs."
Making the experience accessible
After making the gear more accessible, through used and rental options, and making experimenting more accessible, through concierge appointments and cheaper ways to acquire said gear, REI then makes the experience more accessible. That's done through things like REI Adventures' travel itineraries, a local hike organized by REI or a recent partnership the retailer formed with Hipcamp to make booking outdoor stays easier.
Those experiences operate at levels from down the street to nationwide — and that's important, according to Portell.
"You're going to see these tiered step type of engagement programs, where you have the ability to bring people in with very low barriers to entry — the local hike, the after-work hike, the morning hike, all those two-hour commitments or hour commitments — that's very low entry, and it creates a social bond," Portell said. "But at the same time, these retailers need to have a path to further develop that consumer base and that consumer cohort, so they're going to start to step up to these larger and bigger events, realizing they're for fewer people. However, for the consumer that really gets into hiking, there has to be a progression and acceleration and REI is gonna build that up."
In addition to hosting the events themselves, REI is also enabling customers to plan those trips or experiences through more specific educational offerings. Through the virtual outfitting program, for example, a customer can ask for an appointment on a very specific topic — hiking the Grand Canyon rim-to-rim trail, training for their first marathon, learning how to approach hiking with dogs — and REI will find an expert to fill that need.
Integrating the service with REI's travel business seems like a natural next fit — and that's likely coming.
"As things begin to open back up, and life begins to return back to normal, obviously people are going to want to start traveling again. They probably have some pent-up demand when it comes to their adventures," Davis said. "We definitely see closer partnership with virtual outfitting leading into our partnership with REI Adventures, and kind of marrying those two efforts so that we can not only provide you with a great adventure, but we can provide you with a one-on-one connection about how to prepare for that adventure."
Like Powell, Portell believes that ultimately the objective of any travel side of the business is to drive engagement rather than make money. That said, if REI wanted to, he believes the retailer could potentially create a lucrative business by targeting its consumers correctly.
"Think about all the complexity when going on a trip to Patagonia, for example, or Machu Picchu or something like that," Portell said. "A lot of us would just pay a convenience charge to outsource that, right? And REI is in a position to be able to bundle that."
REI is also now offering online education, and can base seminars and classes on questions that are coming up frequently in employees' one-on-one chats with customers, or just on general topics of interest. Those range from classes on backpacking basics or campfire cooking to local hiking classes and trail or national park-specific classes. REI also hosts events where top-tier athletes and adventurers share their own experiences in a given activity.
Based on the positive consumer response, all of that is set to expand even further, according to Davis, with more appointments being added and more education lined up. And importantly for REI, its growing virtual presence is also introducing new customers to the company that either don't have an REI nearby or have never interacted with the company before.
"At REI, we're considered the outdoor experts, and some people may be intimidated to walk into an REI and start talking about climbing or start talking about backpacking, especially if they're a first-timer," Davis said. "And so we're seeing a lot of people choose the online platform to sort of have those initial conversations to get comfortable and to find out that yes, this is actually for them and this is something that they can do. There's a whole new customer that we're able to connect with through this platform, and that's incredibly exciting."
In the online-centric world the pandemic spurred, REI is bringing its outdoors ecosystem to its customers, both the old and the as-yet-unknown. And with personalized outfitting appointments, local events and classes, and outdoors-centered travel, Portell also believes REI is vindicating experiential retail.
"I think the best part of this story for me is the acknowledgment that experience is not gimmicky and gamy. For a long time, the narrative around the retail experience was gamification. You've got to put a roller coaster in, you've got to have a clown and balloons and that kind of stuff," Portell said. "This is about experience for the sake of experience. And it's tied directly to the brand and it builds interest and excitement in the category that they happen to sell. I think it's a brilliant pivot of the story: to real, authentic experience."
By Cara Salpini for Retail Dive